Getting to the Airport
Sukhothai Province is about 440 kilometers from Bangkok. Tourists have many choices of transport to the province and its historic sites by car or bus, by train and by plane.
By Train
There are no trains going directly to Sukhothai, but you can go by train to Pitsanulok and continue by bus to Sukhothai city center, 59 km away. Those who want to go to Si-Satchanalai Historic Park should get off at Sawankhalok which is closer then continue by bus.
Check train schedules before planning the trip. Trains leaves daily from Bangkok Hua Lampong Station to Sawankhalok and Pitsanulok. Contact State Railway of Thailand Tel. 1690, www.railway.co.th
By Car
There are two routes to Sukhothai
1. First take Highway No.1 to Nakorn Sawan and Kampangpetch, then turn to Highway No. 101 passing Pran Kratai and Kirimas to Sukhothai, 400 km.
2. Second take Highway No. 1. turn at Bangpa-in intersection (50 km) to Highway No. 32 by-passing Ayuthaya to Nakorn Sawan then by Highway No. 117 to Pitsanulok and by Highway 12 to Sukhothai, a total of 427 km.
By Bus
Many air-conditioned buses leave
Bangkok - Sukhothai

Bangkok - Si -Satchanalai

Bangkok - Sukhothai Historic Park
From Northern Bus Station (Mo Chit 2), Kampangpetch 2 Road.
For more details contact Transport Company Tel. 1490, www.transport.co.th; Win Tour Tel 0 2936 3753; Pitsanulok Yanyon Tel 0 2936 2924-5 and Cherdchai Tour Tel 0 2936 0199
Booking bus tickets on line is now available at www.thaiticketmajor.com and www.thairoute.com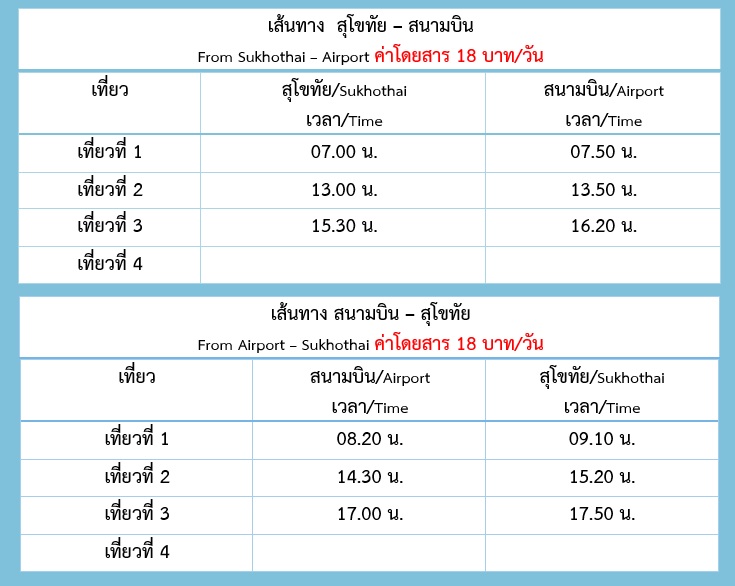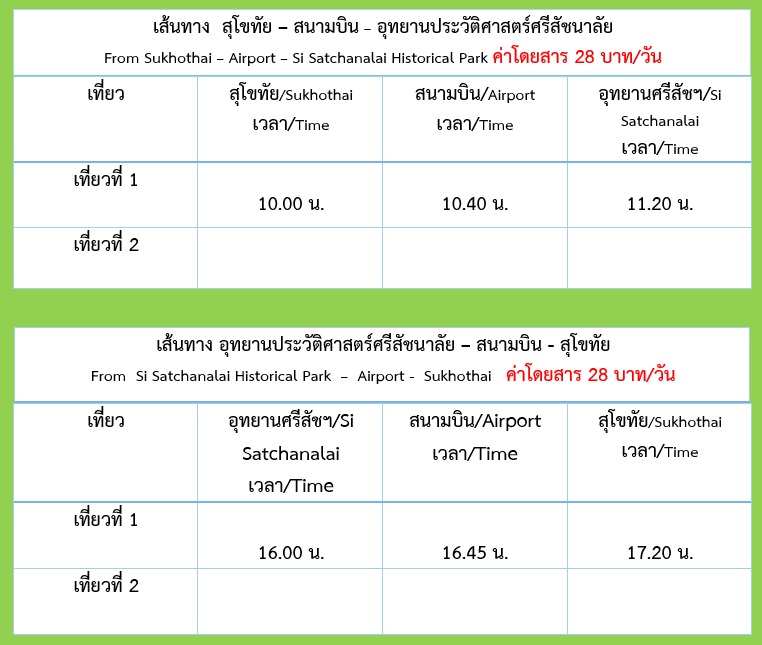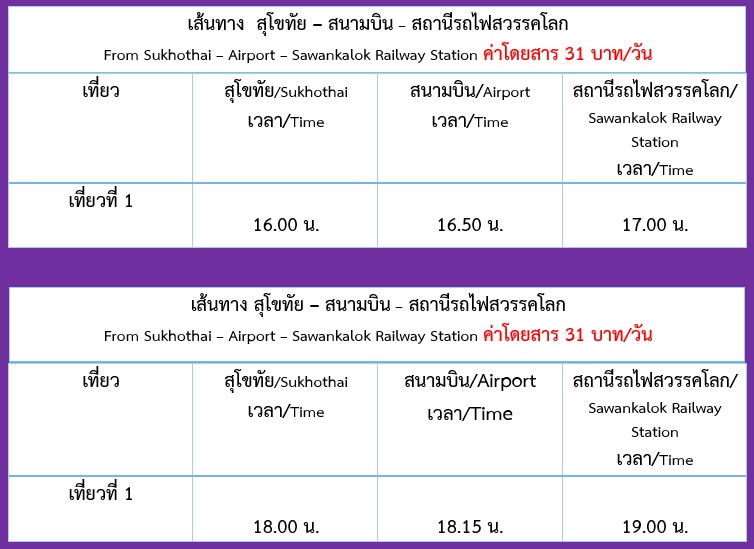 By Plane
Bangkok Airways operates daily flights Bangkok – Sukhothai. Tel. 1771 or 055-647225-6. www.bangkokair.com
Travel around Sukhothai
Mini Buses : Purple and pink mini buses take passengers around town on a circular route stopping at bus stations and parked in front of vocation college. Buses are available for rent.

Samlor: the old fashion, manpowered tricycles are ideal for short trips. Many are found waiting for customers near markets and bus stations. Fare starts from 10 Baht per person.

Saleng: the three-wheel motorbikes with space in front for passengers and belongings are popular with people in the city center. Fare starts at 10 Baht per person and can be rented for a fun ride.

Regular buses are available for inter-provincial travel. Terminals for different destinations are dotted around the main market.
Distance from Sukhothai city center
Ban Dan Lan Hoi 28 kilometers

Kirimas 22 kilometers

Kong Krai Las 21 kilometers

Si Satchanalai 67 kilometers

Srisamrong 20 kilometers

Sawankhalok 38 kilometers

Srinakhon 54 kilometers

Thung Saliam 68 kilometers